A highly experienced leader in consulting, enterprise solutions and technology services, Octaware Technologies partners with clients to simplify and transform their businesses, with deep industry-specific expertise, and innovative thinking. Octaware Technologies has a state-of-the-art Software Development Unit located in SEEPZ Special Economic Zone (SEZ) in Mumbai with offices in India, UAE, Qatar, and Saudi Arabia.
Octaware Technologies is an SEI-CMMI Level 3, ISO 9001-2015 & IEC 27001:2013 certified company, and has been serving corporates, including Fortune 500 companies, across the globe since 2005.
We bring together creativity and knowledge with positive business strategy to furnish your requirements with an inclusive range of services. We are dedicated to help our clients to improve the business operations by implementing our high-quality solutions. We build comprehensive and cost-effective solutions to meet the requirements of the clients. We make sure we exceed clients' expectations so that they can focus on their core-competencies to improve or expand their business.
Providing offshore consultancy is what we specialize in. The management team is equipped with latest technology, better project management techniques and organizational development skills, which are significant in helping our clients achieve the required goals.
The efficient project management and technical support services at customer's location guarantees the successful execution of each project. The services provided are variant and adapted to the satisfaction and style of the clients. To support the increasing needs of clients and partners, the company has geared up an assortment of professional analysts, designers, developers, and quality assurance engineers. Depending on the ever-changing requirements, we come up with the essential and up-to-date tools and skills to enhance the clients' confidence in us. Octaware – we believe it as an expression of our creative, innovative and ground-breaking ideas and experience.
We enhance our services by –
Providing innovative and original ideas for the business.
Looking into the depths of the clients' thoughts to transform them into reality.
Being the mastermind in technical competence.
Having a better form of communication.
We are the group of people – client will appreciate working with.
Octaware has a powerful management team with over 150 person-years of experience and knowledge. The management team approaches new challenges with proactive thinking and strategic planning, keeping the larger picture in perspective. The Octaware management team can be summed up in a quote from Jack Welsh, "Good business leaders create a vision, articulate the vision, passionately own the vision, and relentlessly drive it to completion." Every successful business signifies a courageous decision, and it was the courageous decision of Mr. Aslam Khan, supported by a few young entrepreneurs who have ensured that Octaware has grown to where it is today, and continues to grow to new heights. Mr. Aslam Khan is a man with a mission and a vision. It was this vision that germinated in Octaware Technologies. And the vision was not just to establish a profit-making business but to serve, add value and create growth for the society as well. His Vision is shared by, and he is supported in this mission by the team of able and dedicated professionals each an achiever in his own right.
Anwer Bagdadi
Chief Executive Officer
Anwer brings strong exposure and experience of software operations, strategy, infrastructure services, and game-changing partnerships to his position as Chief Executive Officer. He is responsible for setting corporate strategy, driving revenue, and helping to maintain the company's key relationships with customers, vendors, and shareholders.
Siraj Gunwan
Executive Vice President
Siraj leads and manages engineering divisions at Octaware. He has extensive experience in solution design, product development and enterprise delivery across multiple verticals. He is a technology specialist with over 25 years of experience in information technology industry working for leading financial and government organizations such as Commercial bank, GIS Centre of excellence in Qatar and Department of Science & Technology, India.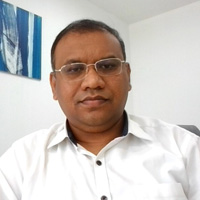 Anto Christopher
Director Sales – UAE

Anto is a professional with an experience of 15+ years in IT Solutions Sales, Business Development, Efficient Key Account (Customer) Management, Individual Contributor and Effective Team Management and in –depth understanding of market dynamics.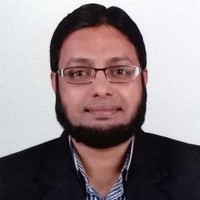 Shahnawaz Shaikh
Head of Project Delivery & Chief Financial Officer

Shahnawaz, a highly skilled and adaptable solution architect is Head of Project Delivery & Chief Financial Officer at Octaware. In this capacity he is responsible for developing and implementing technical strategy and provides effective leadership in delivering IT solutions that optimize business value for organizations. A PMI – Project Management Professional (PMP), Shahnawaz is managing global development center in delivering value-driven solutions in various business domains for customers in the Enterprise, ISV, and SaaS segments.
Meraj Shaikh
Head of Technology Practice & Presales

Meraj has worked in the information technology industry for over 20 years and now serves as the Head of Technology Practice & Presales at Octaware. An accomplished executive with a proven track record of delivering highly scalable enterprise solutions with modern software architectures, Meraj ensures Octaware's technology platforms, solutions, and software architecture can evolve to support emerging customers and market opportunities. With extensive experience in formulating innovative product and services strategies, he leads our engineering delivery teams to success through strategic communication and collaboration between our customers, partners, and software development teams.
The Octaware Advisory Board is a dynamic group comprising of some of the most exciting figures in the industry today. It is an assembly of business leaders, technical experts, industry observers, and advisors to provide strategic advice on the direction of the industry as well as enable us to achieve our corporate objectives. Their vibrant presence is utilized to advise our team on strategy, management, process, customer relationship, and sustainable growth. We are proud to have these dynamic business leaders and mentors who come from diverse backgrounds and locations.
Dr. Shyam Johari
Former Vice President TCS
Dr. Shyam Johari has a wealth of experience in almost every aspect of product development life cycle and heading business operations for leading IT services companies in USA. Dr. Johari recently served as: Executive Director, Board of Directors at S7 Software Solutions; Director – Product Performance and System Integration at Blue Coat Systems; Management Consultant; and Vice President for Tata Consultancy Services (TCS) – America from June 2000 to August 2006.
Mr. Udayan Maroo
Former CFO, Reliance Communications
Mr. Udayan Maroo is a respected Finance professional with nearly 4 decades of experience. Mr. Maroo was CFO Reliance Communications and Finance Director and Company Secretary, at Gharda Chemicals Ltd. In his 3 plus year stint as CFO of the Rs. 22,000Cr Reliance Communications, in addition to routine CFO responsibilities, Mr. Maroo was involved with Investor Relations and restructuring of Group companies.
Mr. Krishnan Narayanan
CEO @ Nihon Edutech Private Limited
 
With 25+ years of experience in the Financial Services Tech sector, he optimizes his organizational and leadership skills to bring value to customers and help them achieve business goals. Having managed the in-house and vendor offshore development centers for a large FS institution, his expertise is evident.